We take a lot of pride in our site sync process. To the right you'll find a video summarizing the process. Below you'll find a list of common questions and answers. Please read the information below before beginning the process.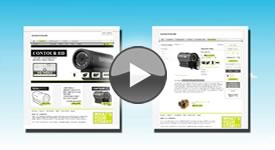 What is a site Sync?
A site Sync is a best attempt by a design engineer to match the look of your new TrueCommerce Nexternal store to the look of your website. While we can often match the look of the store quite closely, please understand that we are working within the shopping cart software framework and there are limitations.
What does TrueCommerce Nexternal need from me before commencing with a site Sync?
Usually nothing but your approval to begin (please see below to know when you are ready). We will view the source code of your website and then attempt to adapt it to work in your TrueCommerce Nexternal store. Occasionally, your Account Manager will contact you with a request for certain files after we begin the site Sync. If the layout of your website changes dramatically from page to page, please email your Account Manager a link to the page you would like us to Sync to.
What does a site sync cost?
For new clients, the site sync is included in your setup fee. It's our goal to provide a good-looking, effective store, so this sync includes a reasonable number of customizations. However, if it is a rush at the time it is submitted, additional rush charges will apply. Also, if substantial customizations are requested, additional fees may apply. For existing clients, please see "Will TrueCommerce Nexternal update my store to reflect future changes to my site?" below.
When am I ready for a site Sync?
If you are finished making short term changes to your website and it contains no broken links, then you are ready for a site Sync. If you are still planning on making changes to your header, footer, or navigation menu, then you need to complete these changes before initiating the site Sync. Please understand that the site Sync will reflect the page we Sync to on the day we copy its source code. If you make changes to your site after you initiate the site Sync and you want us to make those changes to the store, you will be charged for those changes. We can Sync to a site located on a staging server if necessary, but we need to know the URL where the site will eventually reside.
How do I initiate a site Sync?
Please read this entire document first. If you determine that you are ready for a site Sync, please email your Account Manager and they will have your site Sync added to our queue. Please include any special requests and a link to the page you would like us to Sync to. By initiating a site Sync, you are acknowledging that you have read this document.
How long does a site Sync take?
Our lead time is usually around 4 weeks, but it can change rapidly. If you are a new client, the lead time for your sync will be whatever is the current lead time when your sync is formally submitted by your onboarding Account Manager, even if that time is longer or shorter than it was when previously quoted. For initial syncs and resyncs, your Account Manager can give you the current lead time and will provide you with an ETA after your site sync request is formally submitted and our Design Team schedules it in. Your Account Manager will notify you as soon as the site Sync is complete. We ask that you please do not request changes until receiving your notice of completion. If you are on a tight timeline, please notify us of any reason why your site Sync needs to be rushed and we will try to accommodate you.
When should I add my products?
You can add products to your store before, during, and after the site Sync, but the store layout may be in temporary disarray while the site Sync is in process. You may need to resize some of your product images once the site Sync is complete, as wide product images can sometimes cause the store to "blow out," or render wider than the header and footer.
Can I request revisions to the site Sync?
Once you receive notification that your site Sync is complete, you will be given the opportunity to request one round of revisions as part of the one-time site Sync service. Please scrutinize your store carefully as soon as your site Sync is complete. You will need to view several product pages, add products to your cart, and even click the "proceed to checkout" button. If you would like to see any changes to the store, please list them out clearly and email them to your Account Manager. We will do our best to accommodate the changes you list, but there are limitations to what we can do. If you require additional rounds of revisions or revisions that reflect changes you have made to your site, you will be charged $150/hour for the changes. You have one week to define any changes from the completion time of the initial sync.
What if I find that something isn't working right in a particular browser?
After the one round of revisions, if you discover that something is not rendering correctly in your store with a particular browser, we will usually fix the problem free of charge. We test all site Syncs in multiple browsers, but some details occasionally escape our notice. We encourage you to test your store in multiple browsers before taking it live.
Can I make changes to my TrueCommerce Nexternal store layout myself?
Yes, you have full control of the code that forms the layout of your store and you can change it any time. If you are proficient with HTML, you can make a copy of the bordering HTML we created (in the layout section of the OMS) and modify it as you see fit. Please note, however, that if you create a problem and or require assistance with this, you will be billed for our design engineers' time.
Will TrueCommerce Nexternal update my store to reflect future changes to my site?
Whether you make slight changes to your website or completely re-design it, TrueCommerce Nexternal can update your store to reflect the new look. We charge $150/hour for this service ($190/hour if it is a rush job). We can provide an estimate for you to approve before we commence with a re-Sync. Please remember to budget for our re-Sync service when you re-design your website unless you plan to make the store modifications yourself.
Can different pages have different "skins"?
Yes. Different pages can be assigned different layouts or skins which will modify the bordering html and styling components. Please note however, that TrueCommerce Nexternal's standard setup fee includes just one skin. If you want to use multiple skins in the same store, please contact your Account Manager for a quote.
What happens when existing browsers are updated or new browsers are introduced into the market?
Most of the time no action will be required. However, we cannot foresee future changes to browsers and your site Sync may need to be updated upon the release of a new browser or browser version at your expense.
How do I communicate with the design engineers?
Your Account Manager will communicate all of your requests to our design engineers in writing so that we can keep track of the status of each project.
Does my site Sync include a custom mobile-friendly store?
Our design engineers will activate your mobile store, match the header and footer to your website, and configure the mobile store with a basic but effective layout. Hourly charges will apply to all requests for customization.