B2B eCommerce is the abbreviation of business-to business electronic commerce. It refers to the online sale of goods, products or services between businesses via a webstore or online sales portal.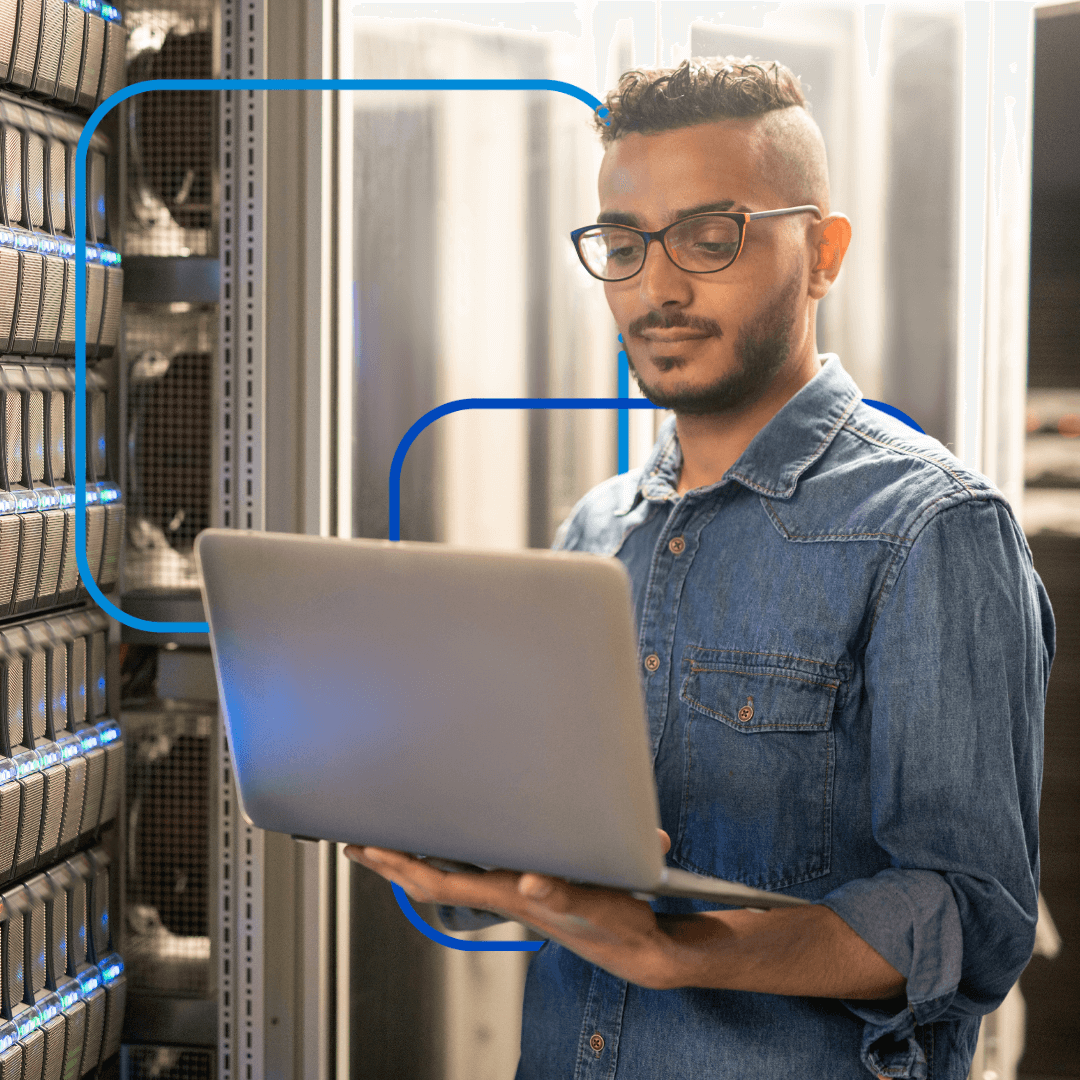 Who uses B2B eCommerce?
Companies of all sizes across manufacturing, distribution, apparel, food, electronics and many other industries, use B2B eCommerce to manage their online sales. The high level of competition across these industries makes speed and efficiency essential and it is within competitive environments that B2B eCommerce can present opportunities to your organisation's digital potential and help you stand out from the crowd.
Today's B2B buyers are accustomed to quick and efficient buying journeys modelled on experiences from their personal lives. B2B platforms that don't offer the same level of service simply don't meet expectations. Successful B2B solutions should make buying as easy as possible for the customer whilst also streamlining internal processes.
Benefits of B2B eCommerce
It's important that B2B eCommerce solutions go beyond simply taking orders and instead help your business increase revenue and online sales whilst also contributing wider benefits. Some of the most important benefits can be found below:
1. Increase sales and order value
Instantly facilitate online orders from your customers and maximise sales with a functionally rich and highly scalable B2B eCommerce software solution. Some of the most common ways you can increase sales with a UK B2B eCommerce platform is to leverage:
• Advanced promotions: Promotions are a key driver of customer interest. Advanced promotion capabilities should be intuitive, easy to use and provide the ability to intelligently target specific customers or groups.
• Intelligent pricing: It is important to present the right prices, to the right customers, at the right time. Varied pricing strategies enable you to apply different prices depending on the user or shipping location.
• Order entry functionality: Quick order entry allows customers to key in, copy and paste or upload a CSV list of products to quickly add products and checkout whilst also checking stock levels and pricing.
2. Increase efficiencies and reduce costs
A B2B eCommerce solution enables you to automate the flow of data between back office and front end systems and reduce administration. A successful solution can help businesses:
• Empower customers to manage their own account: Allow your customers to self-service areas such as managing account finances, returns, back orders, paying off invoices and document management which help reduce the burden on your teams and provide your customers with instant access to account updates.
• Make procurement easy: Punchout, a specialist B2B feature seamlessly links your B2B offering to third party procurement systems allowing buyers to browse and add products on your website and complete the purchase via their procurement system such as Oracle, SAP or Ariba.
See a list of our Top 10 B2B eCommerce benefits.
B2B eCommerce Example
Madison is the European market leading distributor of cycles, parts and accessories supplying a range in excess of 30,000 products to a customer base which includes well known high street chains.
A dedication to customer service has been tantamount to Madison's success and their B2B eCommerce UK solution allows retailers to login and experience a purchasing environment tailored to their individual needs. Contract catalogues, personalised prices, eProcurement and are just some of the functions incorporated into their online B2B store to put the customer experience first.
Madison's award winning sporting goods B2B eCommerce solution enables the business to facilitate internal efficiencies and reduce the strain and pressure on internal teams responsible for taking orders and managing payments.
For most customers, why a product is beneficial for them is more important than what a product is. By tailoring experiences to individual clients you can easily showcase why your customers need your products over a competitors and provide them with the kind of personalised journey that they could experience by talking to an in-store representative.
73% of B2B executives say that customer expectations for personalised experiences are significantly higher today compared to just a few years ago according to a recent Accenture report.
Whilst some may think that buying online loses the personal touch gained via in store or field based experiences, companies that employ successful B2B eCommerce solutions can buck the trend.
Read more on how Madison have benefitted from the TrueCommerce B2B eCommerce platform.
What are the 4 models of eCommerce?
The four traditional types of eCommerce are B2C (Business-to-Consumer), B2B (Business-to-Business), C2B (Consumer-to-Business) and C2C (Consumer-to-Consumer).
1. B2C eCommerce
B2C, or business-to-consumer is used to describe a commerce transaction between a business and an end consumer. Most commonly this refers to transactions between an online retailer and a consumer.
2. B2B eCommerce
B2B, or business-to-business describes transactions between two businesses. B2B eCommerce sales typically refer to the sale of goods, products or services between businesses via a webstore or online sales portal.
• What's the difference between B2B and B2C eCommerce?
While B2B and B2C channels are both unique, the line between them is becoming increasingly blurred. Whilst both models deliver an online service to the user the B2B buying journey can be a bit more complex than its B2C counterpart. For example, your customers might need to send products to many different locations from one order. Or the person shopping may need to pass the basket off to someone else for approval and payment.
Successful B2B eCommerce solutions have the look and feel of a B2C site but with the added functionality required for B2B operations. The TrueCommerce B2B eCommerce solution has been designed and developed from the ground up to be a thoroughbred enterprise level platform to meet the needs of manufacturers, distributors and wholesalers. With TrueCommerce, organisations benefit from B2C aesthetics within a B2B webstore that can support super-sized catalogues, volume-based pricing, express ordering and much more.
3. C2B eCommerce
C2B, or consumer-to-business enables individuals to sell goods and services to companies.
4. C2C eCommerce
C2C, or consumer-to-consumer facilitates online transactions between consumers. These types of transactions are commonly made across online marketplaces such as eBay and Amazon.
What is a B2B eCommerce model?
B2B eCommerce is the process of selling products or services between businesses through the internet via an online sales portal.
Recognising the complexities and specialities of B2B eCommerce, the TrueCommerce solution has been designed and developed from the ground up to be a thoroughbred B2B eCommerce UK platform with an extensive set of features that allow businesses to truly maximise their B2B sales as well as give greater visibility and control to other departments such finance, sales and telemarketing.
With over 15 years' experience developing and implementing B2B eCommerce solutions for businesses from a range of sectors, the TrueCommerce solution has become recognised as the leading solution for B2B eCommerce. With clients ranging from startups to large global companies, the TrueCommerce B2B platform is a popular choice because of its extensive functionality, speed of deployment and scalability.
How do I start an eCommerce business?
Whether you are launching an online store for the first time or changing eCommerce platforms, speed of deployment is critical. But increasingly, we're seeing companies choose between a fully capable B2B eCommerce solution and fast implementation.
For all the time your business isn't eCommerce enabled, you're losing online sales.
When it comes to implementation, the TrueCommerce B2B eCommerce solution can be set up without the need for hours of development and an army of internal developers. Clients simply select the relevant features and we configure the solution as required. This means project lead times are short and costs are low.
We equipped Bunzl with a B2B eCommerce solution that went live in 4 months after time of order and helps them increase sales with more customers that consistently place bigger repeat orders online and reduce costs through the automation of sales and customer service functions.
"Speed of deployment for such a comprehensive B2B eCommerce solution was a major reason for us selecting Netalogue." Bunzl, Head of Systems.
We have put together a B2B eCommerce guide for businesses looking to undertake a B2B eCommerce project. If you're looking to accelerate your digital strategy and do more business online download the guide for all you need to know when choosing a B2B eCommerce solution. If you'd like to discuss how we can help you, please contact us.