B2B eCommerce Platform
Accelerate your digital strategy and increase B2B sales with the TrueCommerce Netalogue B2B eCommerce solution
Achieve the fastest time to value in the market! Engineered for rapid deployment - don't develop - just configure.
From it's conception, the TrueCommerce Netalogue platform has been a B2B focused solution. When it comes to implementation, best in class solutions can be set up without the need for hours of development and an army of internal developers. Clients simply select the relevant features and we configure the solution as required. This means project lead times are short and costs are low. Working in conjunction with leading wholesale, manufacturing and distribution clients, we have developed an unrivalled suite of over 300 features that allow us to service even the most complex B2B scenarios.
B2B platform integration made easy
The TrueCommerce Netalogue B2B eCommerce platform has comprehensive integration capabilities with a powerful framework which allows rapid integration with your other business systems. Connect your eCommerce website to your accounting, warehouse management or order processing systems to improve efficiencies and remove the need for rekeying, whilst increasing visibility across your business. With over 15 years experience integrating ecommerce with ERP systems such as SAP, Sage, Microsoft & Oracle, our teams will ensure your integration is seamless.




Increase sales and order value with B2B online ordering portal
Instantly facilitate online orders from your customers and maximise sales with a functionally rich and highly scalable B2B eCommerce software solution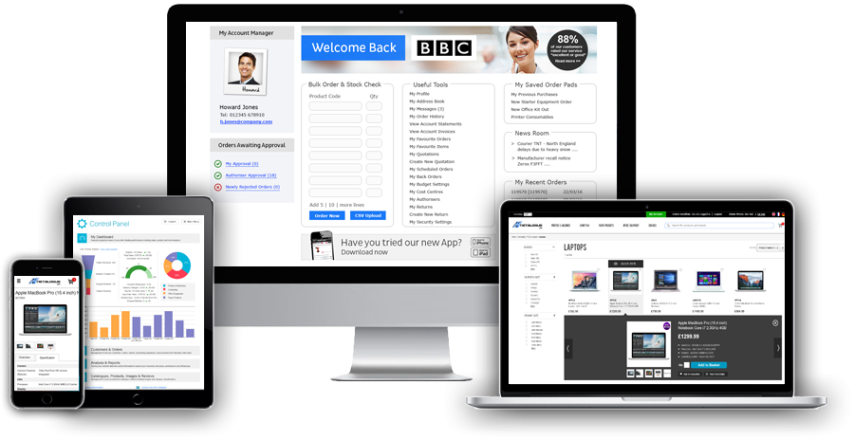 Advanced Promotions - Promotions are a key driver for increasing sales and attracting new customers to your online store. Our advanced promotion capabilities are intuitive and easy to use and can be intelligently targeted at specific customers or groups.
Intelligent pricing - Present the right prices to the right customers at the right time. With support for multiple price lists for a single account and the ability to apply different prices to the same item depending on the user logging or shipping location.
Make ordering easy - Quick order entry allows customers to key in, copy and paste or upload a CSV list of products to quickly add products and checkout whilst also checking stock levels and pricing. 
Find products fast - With comprehensive product attributes and a fully faceted search, your customers can quickly filter down to the relevant items within large product ranges and easily compare by the smallest technical specifications.
Increase efficiencies, reduce costs and improve customer satisfaction
Automate the flow of data between back office and front end systems and reduce administration with our B2B eCommerce system
Empower your sales team - A comprehensive B2B online ordering screen can be used on premise  and out in the field by your sales team, providing instant access to your product data, availability and specific pricing to improve the efficiency of order taking and subsequent service levels.
Make procurement easy - Punchout, a specialist B2B feature seamlessly links your B2B offering to third party procurement systems allowing buyers to browse and add products on your website and complete the purchase via their procurement system such as Oracle, SAP, Ariba. Find Out More About Our Punchout eCommerce & catalog solutions
Accelerate your business - Instantly add advanced selling techniques that integrate with your business systems and sales team and empowers your company to build on existing technology and accelerate your business into the digital age.
Empower your customers - Deep integration into your internal systems allows your customers to self service areas such as managing account finances, returns, back orders, paying off invoices and document management at any time.
The ease and familiarity of a B2C software solution with the advanced functionality required for B2B trading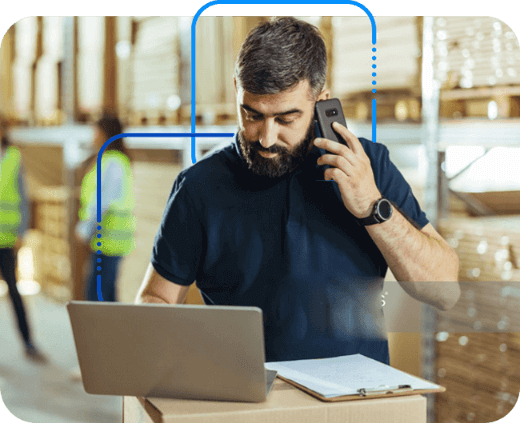 TrueCommerce Netalogue B2B eCommerce Solution
Recognising the complexities and specialities of B2B eCommerce, the TrueCommerce Netalogue B2B eCommerce solution has been designed and developed from the ground up to be a thoroughbred enterprise level platform to meet the needs of manufacturers, distributors and wholesalers. Your B2B store will have the same look and feel as a B2C storefront but can support super-sized catalogues, volume-based pricing, express ordering and much more.
An enterprise level B2B eCommerce software solution trusted by leading manufacturers, distributors and wholesalers
TrueCommerce Netalogue is the leading solution for building ecommerce business websites across all major industries. With clients ranging from startups to large global companies,  the TrueCommerce Netalogue B2B platform is a popular choice because of its extensive functionality, speed of deployment and scalability.
A B2B eCommerce platform you'll never outgrow
The TrueCommerce Netalogue B2B platform is a fully scalable solution designed to meet both your current and future needs as you continue to grow and expand your eCommerce operations.
By choosing our B2B eCommerce solution you are investing in the very latest B2B functionality. With quarterly platform updates bringing the very latest developments from the fast-moving world of eCommerce, you will benefit from a B2B eCommerce platform that continues to lead your digital strategy.
More than just a technology provider
With over 15 years experience in the eCommerce world, we pride our ourselves on delivering a first class B2B eCommerce platform. However, our clients don't just benefit from a cutting edge B2B eCommerce software solution, we work using a consultative approach and will identify and recommend opportunities for further revenue growth using the TrueCommerce Netalogue platform. 
Backed by our leading R&D department, made up of expert developers and consultants that live and breathe B2B ecommerce each and every day, the TrueCommerce Netalogue B2B platform will help you stay ahead of your competition and deliver the B2B buying experience your clients require.
Netalogue Acquisition
In 2019 TrueCommerce acquired Netalogue Technologies plc, the United Kingdom's leading provider of B2B eCommerce solutions. Founded in 2001 Netalogue were one of the first ecommerce companies to specialise in B2B eCommerce and became industry leading experts in the field. The Netalogue B2B eCommerce platform was designed from the ground up to be a thoroughbred B2B eCommerce solution with pioneering functionality.
The Netalogue acquisition formed part of TrueCommerce's wider strategy to provide a complete digital commerce solution. As well as increasing efficiencies, the B2B eCommerce platform benefits from TrueCommerce's range of marketplace integrations, providing the opportunity for increased sales.