Grocery Retail
Supply Chain Solutions for Grocers and Supermarkets
Streamline Your Supply Chain for Stronger Supplier Relationships, Fuller Shelves and Happier Customers
Grocery stores and supermarkets play a critical role in providing everyday goods to consumers, offering everything from food and beverages to CPG products. As a result, grocers face tremendous pressure to have fully stocked shelves at all times. But managing hundreds of products across multiple industries can be difficult, especially as supply chains grow more global and complex. Disconnected technologies heighten the challenge, as they require manual data entry to move key order information.
To stay ahead and keep their shelves stocked, your grocery business needs supply chain software that streamlines supplier communications, reduces pressure on internal IT teams, cuts replenishment lead times, and reduces stockouts. TrueCommerce's fully managed EDI solution is designed to integrate with your ERP and automate communications with all your suppliers, 3PLs, warehouses, and DCs. The fully managed services model reduces IT burdens and overhead, while helping you get the most out of your solution. At the same time, real-time data provides inventory visibility, while a cloud-based architecture lets you grow without limits. With our powerful technology, you'll be able to lower costs, accelerate supplier communication, improve on-shelf availability, and keep your customers coming back for more.
Success Story
TrueCommerce & Vori Partnership
Exclusive Trading Partner Marketplace and Connectivity Platform for the Grocery Supply Chain.
Simplify Supplier Communications
As a grocery retailer, you might work with food and beverage manufacturers, wholesalers, and a whole host of other suppliers that vary in size and technical maturity. To avoid communications headaches, you need a fully managed EDI solution that automates supplier management.
PDF- and email-to-EDI transformation digitises and standardises incoming documents
A user-friendly web EDI portal lets suppliers create PO acknowledgements, ASNs and other key documents, without investing in full EDI
Powerful analytics let you evaluate supplier performance and find areas for improvement
Fully managed onboarding lets you begin ordering from new partners in a matter of days
Managing shipments to and from your warehouses and DCs via phone calls, emails and excel sheets takes too long and can create too much confusion. The right technology can eliminate dock and yard gridlock, so you can keep product moving.
Dock scheduling lets you schedule and manage appointments to minimize congestion
Calendar and visual views make it easy to assign dock doors and keep dock workers informed
Self-service lets suppliers make their own dock appointments, and make changes as needed
Container alerts minimize late fees by telling you when a container's free time has run out
Go Digital with eCommerce
More and more, consumers are choosing to order their groceries online, either for curbside pickup or delivery. Creating a user-friendly eCommerce storefront is key to offering your customers a great shopping experience.
Create a branded online presence that complements your in-store experience
Add rich product descriptions, image galleries and videos to help customers choose the right product
Recommend additional products to increase sales through "related" item carousels
Send order information directly to your store systems for rapid fulfillment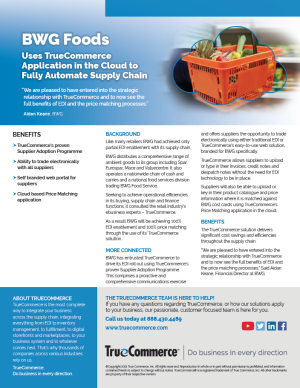 Success Story
BWG Foods
Uses TrueCommerce Application in the Cloud to Fully Automate Supply Chain.
Fully managed service proactively monitors EDI communications, handles EDI issues from your suppliers, and more
24/7 customer service availability from an in-house team of experts offers best-in-class support
Cloud-based solutions eliminate the need to backup data, install new software, or maintain on-premises servers
Full redundancy, disaster recovery, and a 99.9% uptime provide supply chain resilience and peace of mind