CPG Wholesale and Distribution
Supply Chain Solutions for CPG Wholesalers
CPG wholesalers play a crucial role in retail and eCommerce sales, by connecting a huge range of product brands to retail partners. However, managing dozens or hundreds of suppliers, plus multiple warehouses, DC's and/or 3PLs can be difficult. With burgeoning digital channels, a refocus on sustainability and transparency, and the growing desire for rapid delivery, the pressure for CPG wholesalers is at an all-time high. Add to that the complex needs and mandates of top global retailers, and the CPG wholesale supply chain can quickly become convoluted and unmanageable—unless you have the right tools.
At TrueCommerce, we understand the unique obstacles faced by CPG distributors, who specialize in fast-moving products that require a constant, close eye on consumer demand. Our integrated supply chain solutions are designed to streamline supplier and customer communications while eliminating arduous manual processes. By connecting your supply chain end to end, our unified commerce solution creates efficiency, accuracy, and visibility—plus the real-time data you need to make fast, strategic decisions.
Add Links to Your Supply Chain
Disjointed supply chains can leave your business relying on manual processes to move data, which can result in delays and errors. TrueCommerce makes it easy to connect your entire supply chain from end to end.
Join a global commerce network of more than 160,000 pre-connected retailers, marketplaces, suppliers, and 3PLs
Connect with 60+ global carriers to find the best shipping methods for every order and customer
Leverage integrated EDI to automate the exchange of POs, ASNs, Invoices, and more
Get real-time visibility into product movements, and adapt quickly to demand changes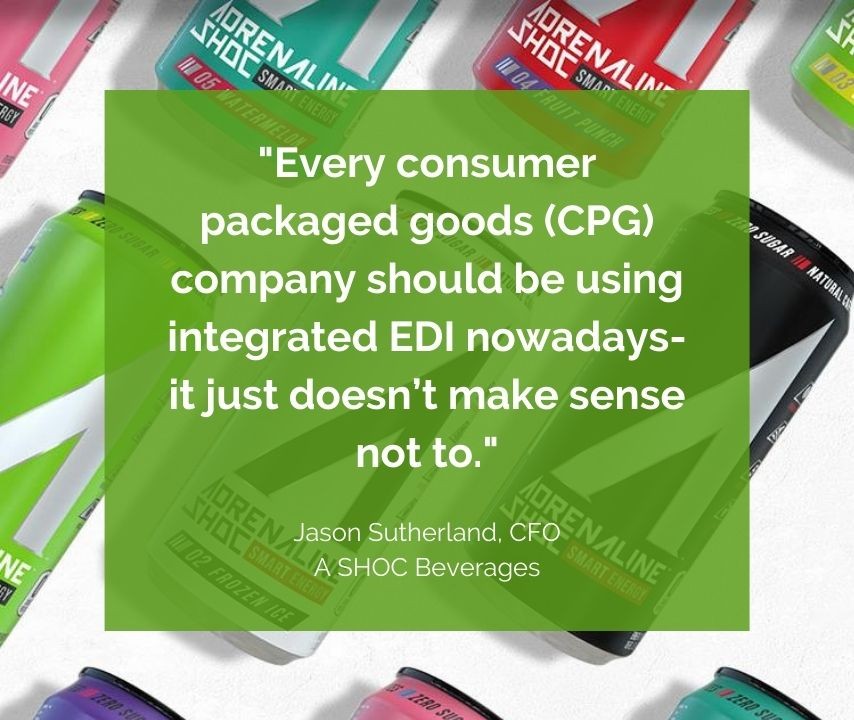 Empower Your Supplier Community
Supplier communications are central to CPG wholesaler success, but with a huge range of vendors comes numerous methods for document exchange. TrueCommerce's OneTime supplier enablement platform lets you digitize and standardize supplier messages for faster, easier management.
Translate PDF documents into EDI data and deliver it to your ERP.
Conform data from EDI, XML, CSV and other flat-file formats to meet your ERP needs
Offer your suppliers an EDI web portal, or let them communicate via their preferred method
Easily onboard new suppliers with a full-managed onboarding program
Automate Order Processing
CPG wholesalers need to process hundreds or even thousands of orders per week, and each order needs to be acknowledged and delivered quickly. By automating key processes, TrueCommerce makes it easy to meet the growing needs of your customers.
Bring data from multiple sales channels directly to your ERP to eliminate manual data entry delays and errors
Leverage real-time data to provide accurate inventory availability and insight into order statuses
Ensure retail compliance with regularly updated EDI maps and proactive communications monitoring
Grow Your Online Presence
Like consumers, businesses have come to appreciate the convenience of eCommerce channels. TrueCommerce's B2B eCommerce platform gives you powerful order control, while providing your buyers with an easy, B2C-like shopping experience.
Limitless customer segmentation creates a personalized shopping experience with type-based and volume-based pricing, product and category visibility, shipping costs and more
Multiple Ship-to functionality lets buyers order for multiple locations at the same time
An integrated solution ensures inventory accuracy to prevent overselling, while powerful controls let you allocate limited stock
Purchasing groups give B2B customers the ability to self-manage their purchases, and give purchasing permissions to multiple users
Get the Support Your Business Deserves
As a CPG wholesaler, you know that speed and service are essential traits in any supply chain partner. At TrueCommerce, our Fully Managed Services model is designed to give you security and peace of mind.
Expert implementation and integrations teams create a seamless transition to our solution, and address your unique business needs
In-platform guided tutorials, plus helpful articles offer easy "how-to" answers to common questions
24/7 customer service availability from a fully in-house team makes it easy to quickly resolve issues
99.9% uptime with SOC-2 certified security and complete disaster recovery protect your business