Automotive Supply Chain Management Solutions
End-to-End visibility from procurement to production to payments.
Integrated Supply Chain Solutions for the Automotive Industry. Get real-time automation for unbeatable visibility into your supply chain network.
Streamline your Automotive Supply Chain
Pressures have never been greater for auto industry brands. From vehicle manufacturers to T1 and T2 automotive suppliers, agility and resiliency are now crucial to success. But to achieve these goals, you need seamless connectivity throughout your entire supply chain.
TrueCommerce offers automotive OEMs, suppliers, 3/4PLs, and third-party finishers the technology they need to outpace the competition. Featuring real-time integration into any system, our cloud-based automotive supply chain solution lets you:
Accelerate materials procurement
Modernize manufacturing processes
Gain clarity in inventory management
Enable a truly digital supply chain
With TrueCommerce for the Auto Industry, you can finally do business in every direction. That's why thousands of automotive companies, from Honda to Lucid, trust TrueCommerce.
Relieve Global Supply Chain Pressure Points
Empower your production and supply chain teams with real-time data. Use automotive supply chain management tools to identify risks before they impact your bottom line.
Cloud
Scalability, agility, and lower total cost of ownership
Analytics
Real-time snapshots of data for better decision making
Industry Best Practices
Seamless collaboration with customers, suppliers, and 3PLs
Any-to-Any Integration
Digitized process mitigates risk, improves data integrity
Access Anywhere
Manage your digital supply chain wherever, whenever
Ensured Compliance
Meets common, global standards for the auto industry
Strategic Management
Improved velocity in innovation, adaptation, and execution
Redundance
Zero downtime with disaster recovery and built-in contingencies
Time-to-Market
Supports the introduction of new products to the market
Keep the Production Line Fed
Whether you're an OEM/car manufacturer, automotive parts supplier, or logistics provider, you know the importance of getting the right component to the right place at the right time. Here's how we help keep your production line in motion:
For OEMs: Integrated solutions protect your volume outputs by ensuring supplier compliance and alerting you to potential deviations
For Tier 1, 2, & 3 Suppliers: Real-time insights keep you informed of demand changes to prevent stoppage fines and support just-in-time delivery
For Logistics Providers: On-demand visibility into supplier fulfillment schedules and in-transit audits ensure smooth operations and cost savings. ASN support keeps your partners in the know.
Real-Time Visibility and Value
Enjoy best-in-class automotive supply chain software that improves agility on time-to-value metrics. Our platform offers greater access to new revenue streams and geographies for both original equipment manufacturers and their automotive parts suppliers.
End-to-end Visibility
Automate manual business processes and expand supply chain visibility across your production line
Connectivity & Automation
Optimize supply chain management to increase efficiency and meet customer demand
Risk Mitigation & Costs Savings
Identify and mitigate data anomalies on receipt, and proactively reduce unplanned costs
Improved Cash Flow
Get paid on time, every time, with accurate invoicing
Next-Level Auto Industry Integration
Meet automotive supply chain best practices with ease. Using direct ERP system integration, TrueCommerce enables you to automate key automotive manufacturing processes. Plus, with TrueCommerce's Fully Managed Service approach, you can enjoy the benefits of integration without all the work.
Data communication and mapping reduces your IT burden.
Automated in-transit calculations provide real-time insight into customer demand changes.
Exception alerts keep your team in the know for any required changes.
Any-to-Any integration architecture connects your internal system to your external channels across communication methods.
Increased forecast visibility is provided with the real time exchange of Customer Data, Release Accounting, and Cumulative Management.
A Trusted Solution from Industry Experts
We've been working with automotive companies for more than two decades. Our automotive supply chain software and service are designed to keep you ahead of the competition.
We're Honda certified, and we're always on top of the latest OEM business rules.
Our MMOG/LE-compliant EDI solution helps you get compliant 40% faster and can save you $50,000 per year.
TrueCommerce integrates with dozens of leading ERP systems, so you can easily upgrade as you grow.
Our cloud-based solution hosted on the Azure Network is backed by best-in-class data security and backups, to protect your brand.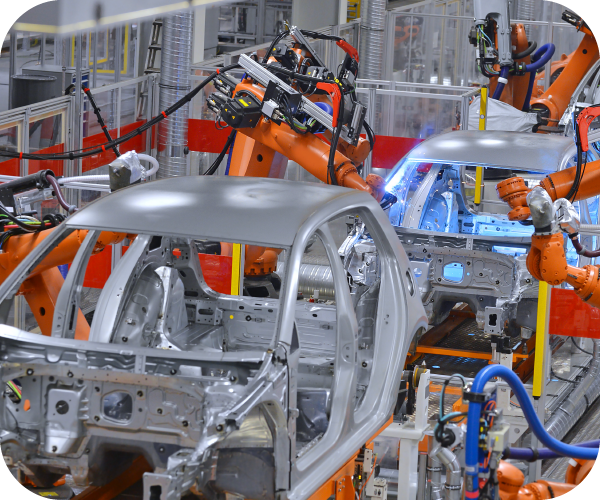 Ready to do business in every direction?