Warehouse Shipping Advice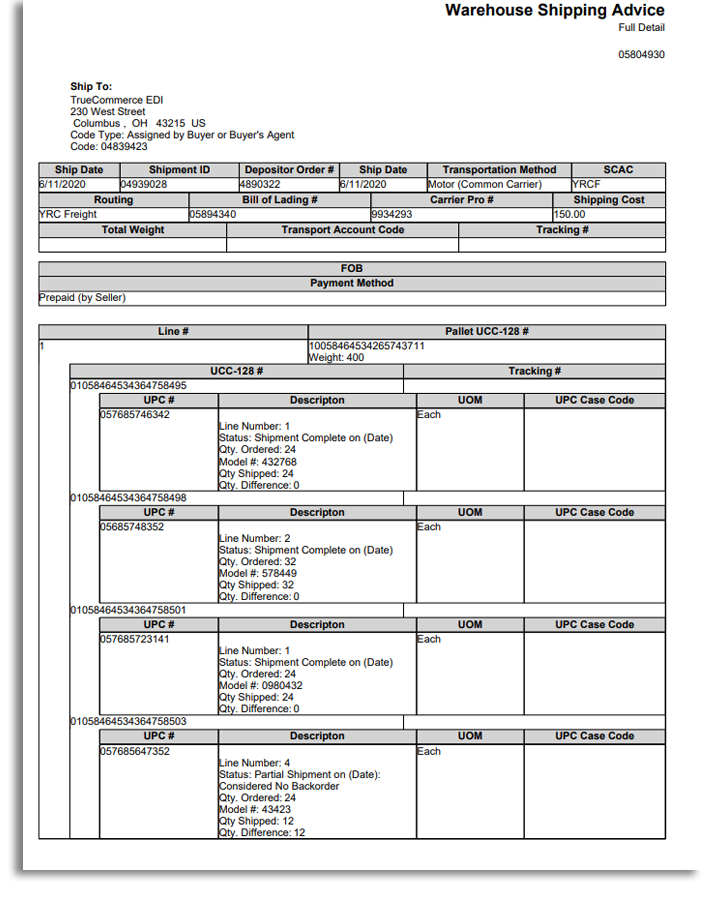 What is EDI 945?
EDI 945, also known as a Warehouse Shipping Advice, is an EDI transaction set used to confirm the completion of a shipment. This document is usually sent from a third-party logistics provider (3PL) or remote warehouse, to their client, letting them know that a shipment has taken place.
EDI 945 documents follow the x12 format set by the American National Standards Institute (ANSI), a not-for-profit organization that regulates EDI formats in the U.S.
What Are the Essential Components of EDI 945?
EDI 945 provides the final shipment details, so it is imperative that it include thorough, correct details on what has shipped. Important components of EDI 945 include:
Product SKUs or identifiers and quantities shipped
Shipment date and time of departure
Seller, warehouse, and/or delivery location information
Carrier details and shipping method
Shipment payment information
Shipment tracking information, such as a tracking number or bill of lading number
Inventory tracking information such a lot/batch numbers and serial numbers
Carton and pallet level detail where appropriate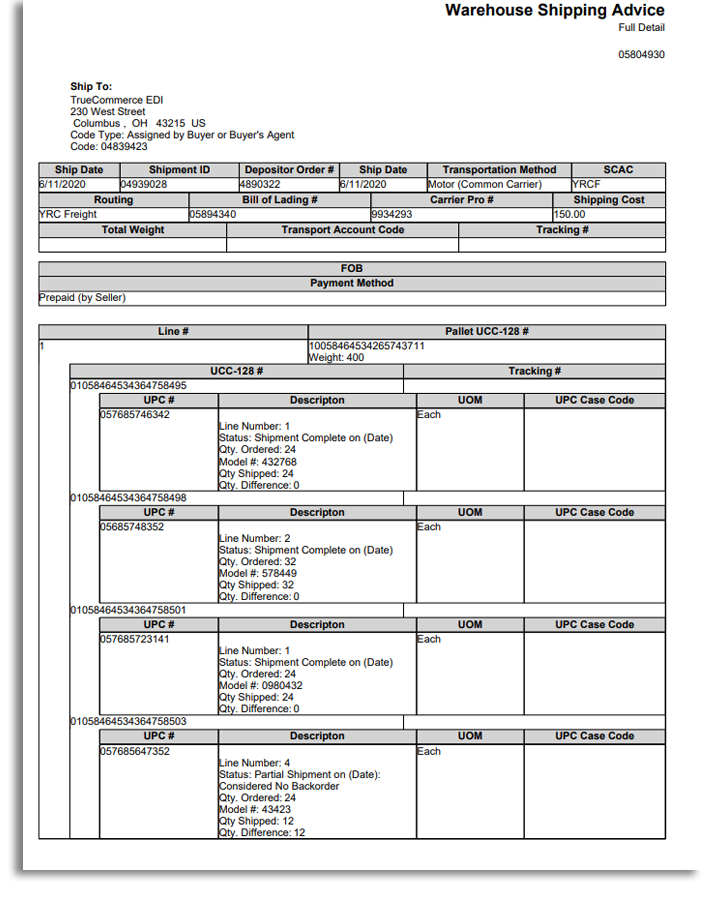 How Do I Use EDI 945?
When a shipment is needed, a seller sends their 3PL or warehouse a 940 Warehouse Shipping Order, which outlines the goods required and other shipping details and instructions. The warehouse works to complete the order shipment and returns an EDI 945 once the shipment has left the warehouse. EDI 945 conveys the details of the shipment.
EDI 945 contains all the information the seller needs in order to reconcile the shipment against the sales order and send an EDI 856 Advance Ship Notice if required. The seller will confirm their receipt of EDI 945 by sending back an EDI 997 Functional Acknowledgement.
What Are the Benefits of EDI 945?
Like many EDI transaction sets, EDI 945 uses data automation to ensure accurate and consistent shipment details, while reducing the time spent on typing and retyping. Additionally, the automated aspect of EDI can help increase warehouse efficiency, enabling 3PL's to ship more products quickly and accurately.
For sellers, EDI 945 provides essential information to update sales orders and inventory quantities along with completing EDI 856 creation for those customers that require it. EDI 945 also allows sellers to track the shipment activity at their 3PL for enhanced operational visibility. Additionally, information such as the shipment date and estimated delivery date, along with tracking information, can be sent to the customer to keep them in-the-know.
EDI Format Example
EDI 945 can be viewed in two formats – a human "readable" version and a "raw" data version. The example below shows the raw EDI data, which is usually translated using integrated EDI software, and then sent to your business system (ERP) for use by your EDI manager or other employees.

ISA*00* *00* *ZZ*PACKANDSHIP *12*9622309900 * * *U*00501* *0*T*>

GS*SW*PACKANDSHIP*9622309900*20200611*1604**X*005010

ST*945

W06*F*05804930*20200611*04939028*4890322

TC&*********LXMANW12

N1*ST*TrueCommerce EDI*92*04839423

N3*230 West Street

N4*Columbus*OH*43215*US

N9*BM*05894340

N9*CN*9934293

G62*11*20200611

W27*M*YRCF*YRC Freight*PP

G72*504*06******15000

LX*1

N9*UC*10058464534265743711

N9*TW*400

N9*NP*4

MAN*GM*01058464534364758495****100

W12*CC*24*24*0*EA*057685746342*VN*432768

N9*P7*1

REF*LT*5094030*24*20201030

MAN*GM*01058464534364758498****100

W12*CC*32*32*0*EA*05685748352 *VN*578449

N9*P7*2

REF*LT*8943820*24*20201030

REF*LT*8930291*12*20210226

MAN*GM*01058464534364758501****100

W12*CC*24*24*0*EA*057685723141*VN*0980432

N9*P7*1

REF*LT*4789329*24*20201127

MAN*GM*01058464534364758503****100

W12*CP*24*12*12*EA*057685647352*VN*43423

N9*P7*4

REF*LT*128798*12*20201204

SE*33

GE*1

IEA*1*