Tips for Digital Integration in the Automotive Supply Chain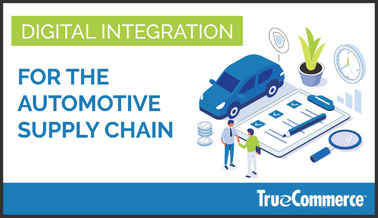 The global automotive supply chain continues to shift rapidly, with recent events introducing new challenges that OEMs, suppliers, and manufacturers are looking to overcome. Electrification, user experience, governance, and industry manufacturing shifts are redefining how automotive companies operate, and as new technologies emerge, organizations will need to adopt new business practices to stay ahead.
With consumer expectations now higher than ever, will your strategic plan be enough to withstand the pressure of the evolving automotive supply chain?
View Our Infographic on Digital Integration for the Auto Industry
Download Now
A Defined Vision to Survive and Thrive
"One of the biggest keys to the success of both giants and disruptors will be learning how to quickly adjust their supply chains to create a business that can capitalize on the growing preference for EVs over ICE-powered vehicles."
– Accenture
The time to act is now. There is a growing need for businesses to become more flexible and agile to create a more resilient supply chain, with the ability to be proactive instead of merely reactive. In our latest webinar, Performance Under Pressure, we identified six primary strategies that, when applied, can help businesses not only survive in today's automotive market, but thrive!
1. Reshape the business
There's an overarching need for businesses to focus on their core competencies to bring products to market faster. With in-vehicle digital technology advancing rapidly, the target for releasing new products should be the same time frame as technology companies releasing new products.​
2. Modernize business processes
When aiming to improve efficiency, agility, and accuracy for right-first-time execution, businesses need to analyze the various techniques utilized for getting finished products to the customer. When we look at business processes through a critical lens, we start to discover potential gaps in the supply networks that can be filled and enhanced by technology ERP integrations.
3. Elevate business practices
Establishing a global supply chain platform enables the ability to work from anywhere, where the look and feel are the same so that anyone can pick up the work should a supply chain disruption occur. This type of real-time supply chain management solution, along with business best practices, helps mitigate risk and waste.
4. Establish a firm foundation for continuous innovation
A wealth of knowledge is already readily available within data that has been accumulated and is gathered daily. Businesses can use this existing data to create opportunities, identify areas where the company can be more agile, and develop innovation faster.
5. Enable seamless collaboration
Working both vertically and horizontally, across not only all internal systems but with all external partners, which can include suppliers, 3PLs, and third-party finishers.​ These integrations and relationships need to work together cohesively to successfully orchestrate consumer demand.
6. Achieve excellence in operational and strategic management
To improve the velocity of execution, innovation, and adoption of new business models, we need to work to remove barriers and blockers to help propel the business forward.
These strategies are the fundamental stepping stones in the journey toward digital integration. Discover how these practices could be used to integrate supply chain solutions for the automotive industry. The following infographic summarizes some key digital integration considerations and benefits as businesses look to enhance their automotive supply chain.
For even more information about data integration in the automotive industry, check out the webinar Performance Under Pressure. Industry expert Brian Jolley dives deeper into the drivers of change and the need for enhanced visibility and technology.
About the Author: Brian Jolley, Sales Director of Automotive Solutions at TrueCommerce, is an accomplished and successful sales and marketing management executive with over 25 years of direct experience in the automotive industry. He has extensive industry affiliations working with OEMs and suppliers, particularly around supply chain best practices. He has also participated in many strategic leadership panels, including the AIAG Supply Chain and Engineering Steering Committee. Outside of work, Brian enjoys traveling with his family and friends, especially cruising.
Stay ahead of the competition
Get expert supply chain insights delivered directly to your inbox weekly.