Kroger EDI Integration
Automate order processing to strengthen your Kroger supplier relationship.

Headquartered in Cincinnati, Ohio, with nearly 2,800 stores in 35 states under two dozen banners and annual sales of more than $132.5 billion, Kroger ranks as one of the world's largest grocery store retailers.
According to the Kroger website, the brand is the only major U.S. supermarket company to operate an economical three-tier distribution system, with formats including supermarkets, seamless digital shopping options, price-impact warehouse stores, and multi-department stores. Its 35 food production and manufacturing facilities produce high-quality, private-label products, and its 1,585 supermarket fuel centers and 2,256 pharmacies are a natural addition to its one-stop-shopping strategy.
TrueCommerce offers world-class compliant EDI for Kroger suppliers. Our cloud-based EDI solution enables you to send EDI documents to Kroger easily and effectively, with the confidence that your transactions are processed with the proper data and unique EDI guidelines that Kroger requires.
To be EDI compliant, Ford suppliers must be able to send specific EDI transactions that adhere to Ford guidelines. These guidelines can be updated at any time, which can make EDI compliance a challenge.
With TrueCommerce's EDI service, Ford suppliers can automate the exchange of EDI business documents, without worrying about non-compliance. Our fully managed service model provides 24/7/365 support including automatic EDI mapping updates whenever Ford changes their EDI mandates.
TrueCommerce EDI supports the following Kroger subsidiaries:
Kroger
Kroger Drop Ship US
Kroger – Commercehub
Kroger Coupa
Kroger Ship to Home
Kroger EDI Transactions
With TrueCommerce, you can meet Target EDI requirements quickly and easily. Below is a sample list of Target transactions supported by TrueCommerce. All transaction codes used are a part of the ANSI ASC X12 EDI standards. The UN/EDIFACT standard is supported as well as the XML syntax.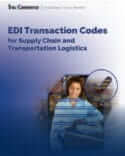 eBrief
Request a Free Guide to EDI Transaction Codes
Inbound
EDI 812
EDI 820
EDI 824
EDI 830
EDI 832
EDI 850
EDI 852
EDI 875
Outbound
EDI 810
EDI 880
EDI 832
EDI 855
EDI 856
EDI 846
Kroger utilizes both the UCS and the ANSI X12 EDI Standards used to send and receive EDI transaction sets. Kroger requires most companies to use EDI to accept purchase orders and send invoices. Some vendors are also required to send advance ship notices (ASNs) via EDI.
The retailer stipulates that "vendors who accept product orders that require shipment to any Kroger distribution center ("DC") are required to have the ability to receive the issued purchase order via EDI as well as to return the associated invoice via EDI."
Vendors who fail to meet this requirement within 90 days are subject to invoice processing fees, which can be up to 1% or $250 of the total invoice amount. Vendors may also face consequences for inaccurate transaction data or delayed transactions, in the case of ASNs.
Why Choose TrueCommerce
TrueCommerce is a global leader in supply chain connectivity, with more than two decades of experience in the retail industry. Our Target EDI integration enables you to streamline Target order processing to strengthen your trading partner relationship. 
Connect with new retail channels
Automatically exchange transaction and inventory documents with trading partners, including POs, ASNs, and invoices.
Optimize sales performance
TrueCommerce's unified order management capability creates efficiencies that help you deliver a consistent experience to customers.
Improve decision-making processes
Advanced operational analytics dashboards let you evaluate role-specific key performance indicators (KPIs) to enhance processes.
Gain more visibility
 Increase inventory and order visibility across your supply chain for better collaboration between suppliers, distributors, and customers.
As an Kroger supplier, you may have questions relating to EDI and your supply chain. Here are a few of the most common questions we receive from suppliers like you: